Programmable Overloadprotection GHC-2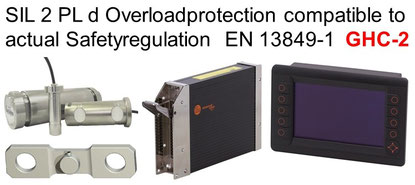 Ideal for:
•      Bridge Cranes, Gantry Cranes
      •      Container Cranes, STS Cranes
      •      Portal Cranes
      •      Harbor Cranes with booms
      •      Straddle Carriers, RTGs
      •      General applications in harbor and     
         construction industries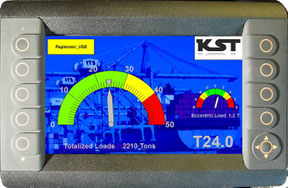 GHC-2 is the safe but still economic solution to have an overload protection on cranes and other lifting equipment complient to the actual legal Standards. It is also suitable for a number of other applications in rugged conditions, including construction and harbor equipment where the SIL 2  and PL D safety standard is required.
The GHC-2 system consists of redundant sensors (dual channel) for forces, angles etc and a safety control (PLC) with or without multi-colour graphical display which are both programmed in World-Standard IEC 61131-3 language CoDESys ®. According to the visualisation requirements, there is a 2,8", a 4,3" and a 7" console available on choice.
GHC-2 fulfils its safety function by activating or shutting down crane functions via digital outputs and Relais.
The high SIL 2 category is fulfilled by having dual channel sensorsignals, which are checked by the system on discrepancies. The safety controller checks constantly the whole chain and will cut out on a separate independent diagnostics relay in case of any discrepancy to bring the crane back into a safe condition.
GHC-2 can be linked directly to the crane controls and other systems by CANBUS or by optional analogue outputs with 4…20 mA output current.
GHC-2 comes as a plug-and-play solution and can be calibrated without any special tools simply on the screen in a very short time.
Features:
·         Analogue and digital Load display
      ·         Tare function
      ·         Event-Datalogger with USB readout (option)
      ·         Alarm function on screen
      ·         Passcode protected Menu for
                  o   Calibration of sensors
                  o   Finetuning of analogue outputs (optional)
                  o   User defined Cutout limits setting
      ·         16 digital outputs for critical crane conditions
                 o   Overload cutout
                 o   Overload prewarning
                 o   Underload slackrope
                 o   Load unbalance
                 o   Single line overload
                 o    Separate cutoutpath for system/sensorerrors
      ·         8 analogue inputs (4…20 mA) for sensors; Choice of  
            sensors acc. to Cranetype
      ·         16 digital inputs for general purpose or incremental
            counters
      ·         8 PWM outputs (part of the 16 digital outputs)
      ·         8 analogue outputs  4…20 mA optional
      ·         2 CANBUS interfaces