Basic Switching Amplifier To protect Lifting Equipment against Overloading and Damage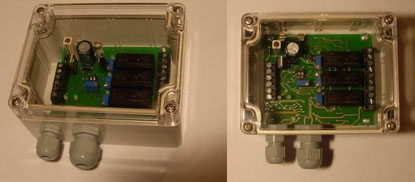 When signals from either one or two sensors have to be detected and supervised, the Basic Switching Amplifier (BSA), with its high safety, accuracy but very moderate price, is the best choice.
Either one or two inputs, with voltage or current signals, which can be set to any range, will allow the choice of different sensors. The sensor signals are fed to switchpoints, which  will control three relays, that are capable to switch high-power 250V devices. All three potential-free contacts of each relay are available (root, open and close). An analogue output is available for the average sum of sensor inputs 1 and 2.
All inputs, outputs and the supply voltage can be connected by screw contacts which allows to use open-end wires. The installation is very easy with a small screwdriver used as the only tool; following the easy-to-understand manual.
It is available in 2 versions, the Standard version and the Safety version.
Version "Standard":
Three limit switch-points can be set by trimmers. Switchpoint A offers the possibility to set hysteresis and time delay manually. For Switchpoints B and C, the delay is zero and the hysteresis set to a suitable fixed value. The Switchpoint C can be set either to overload or underload function.
The allocation of switchpoints to the inputs is very flexible.
1

st

mode: All three switchpoints allocated to sensor input 1

(single input mode)

2

nd

mode: All three switchpoints allocated to the sum of sensor input 1 and 2

(dual input mode)

3

rd

mode: Switchpoint A to sensor input 1, Switchpoint C to sensor input 2 and Switchpoint B to the sum of sensor inputs 1 and 2

(dual channel mode)
The Sensor Watchdog will take care that all relays will cut out in case of sensor error. Internal LEDs are showing the status of each sensor input and each relay.
Version "Safety":
This version offers a very high level of safety due to the following features (SIL2 PLd pending):
Use of a Safety relay with forcibly driven contacts for Switchpoint A. That allows to detect any error in the cut-out circuitry

Fully redundant operation of sensors and electronics possible
Separate relay for error diagnostics that offers an independent separate cut-out in case of sensor error, redundancy error and cut-out error
Protection against operation at excessively high temperatures
 Two relays are used for Switchpoints A and C. The third relay is reserved for the diagnostics. For the main Switchpoint A, the Safety relay  is used. LEDs indicate the status of relays, the sensor status, Indication of redundancy error and cut-out error.
 The following modes are possible.
1st mode: Switchpoints A and C allocated to sensor input 1 (single input mode)

2nd mode: Switchpoints A and C allocated to the sum of sensor input 1 and 2 (dual input mode)

3rd mode: Switchpoint A to sensor input 1, Switchpoint C to sensor input 2 (dual channel mode)