Loadmoment Limiter SIL2 PLd compliant for Lattice Boom Cranes LBC-2
Ideal for:
•      Truckmounted Lattice Boom Cranes
      •      Crawler Cranes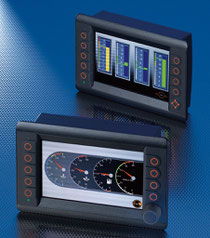 LBC-2 is the highly safe and economic solution to realize a loadmoment limiter for lattice boom cranes.
The LBC-2 system consists of redundant (doubled)sensors for forces and the boomangle and a Safety control (PLC). The multi-colour graphical display shows the important LMI parameters such as the actual load, boomangle and radius. The loadmoment is shown as a digital number in percent but also with an analogue bargraph in trafficlight colours. On the left side, the green field shows, that everything is in right order. At 90% loadmoment, it turns to yellow as a prewarning. At 100% loadmoment, the red fiel will be lit as an indication that LBC-2 now
stopps the dangerous movements of the boom to avoid any further increase of loadmoment.
Dependent on customer requirents, either the 2,8" Basic display or the 7" High-End console can be used.
Both, controller and display are programmed in World-Standard IEC 61131-3 language CoDeSys ®.
LBC-2 fulfils its safety function by activating or shutting down crane functions via digital outputs. For instance, when the loadmoment is 100%, booming down or lifting the load is blocked whereas lowering the load and booming up is enabled. 
The high SIL 2 category is fulfilled by having dual channel sensorsignals, which are checked by the system on discrepancies. The safety controller checks constantly the whole chain and will cut out on a separate independent digital output in case of any discrepancy to bring the crane back into a safe condition.
LBC-2 can be linked directly to the crane controls and other systems by CANBUS or by optional analogue outputs with 4…20 mA output current.
LBC-2 comes as a plug-and-play solution and can be calibrated without any special tools simply on the screen in a very short time.
Features:
·         Analogue display of loadmoment
·         Digital display of load, angle, radius, loadmoment  
       and optional windspeed
      ·         Tare function
      ·         Alarm function on screen
      ·        Selection of operation mode
      ·         Passcode protected Menu for
                  o   Calibration of sensors
                  o   Finetuning of analogue outputs (optional)
                  o   User defined Cutout limits setting
      ·         16 digital outputs for critical crane conditions
                 o   Overload cutout
                 o   Overload prewarning
                 o   Underload slackrope
                 o   Single line overload
                 o  Separate safety cutout path                  
      ·         8 analogue inputs (4…20 mA) for sensors; Choice of  
            sensors acc. to Cranetype
      ·         16 digital inputs for general purpose or incremental
            counters
      ·         8 PWM outputs (part of the 8 digital outputs)
      ·         8 analogue outputs  4…20 mA optionall
      ·         2 CANBUS interfaces