Compression Loadcells Series C3 and C6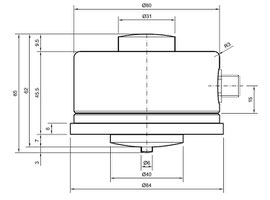 KST compression load cells series C3 are used in applications where heavy loads have to be measured by a loadcell with compact design.
C6 loadcells are used for very heavy loads up to 1000 Tons. 
Typical fields of application are fork lift trucks, warehouse conveyors, overhead cranes and all sorts of cranes where the load measurement is done under the torque base of the winches etc.
C3 and C6 compression load cells are best suited where rugged environment and the requirement for accurate measurement results come together. 
All compression loadcells are made of high-grade tensile steel. The choice is between alloy steel with anti-corrosion nickel coating or stainless steel. 
A current output 4....20 mA is offered as the standard version. Voltage output or passive mV/V  outputs are available as well. 
As the new safety regulations require redundant (doubled) signal outputs, this will also be an available option of the the KST C3 and C6 loadcells. 
KST also provides compression loadcells as ringforce transducers.