ECO Overloadprotection for EOT CranesSKS-1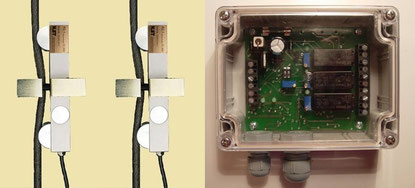 Ideal for:
•      Bridge Cranes, Gantry Cranes
      •      EOT Cranes
      •      Portal Cranes
      •      General applications in harbor and     
         construction industries
SKS-1 is the simple and accurate System to control wire rope tension and to protect machinery at a perfectly low price.
Wire ropes are used extensively in industrial applications involving lifting machines such as lift systems, cable car systems as well as crane services.
In many cases, failure of a wire rope could lead to extensive damage to the equipment.
SKS-1 measures wire rope tension loads and delivers information on overload and slack-rope conditions as well as a motion shut-off activated by relays.
The system consists of only two components: the wire rope tension sensor R2 series and the electronic basic switching amplifier BSA that offers three individually settable switching points that can react through 250 Vac power relays at
- slackrope condition (underlod)
- 90% of maximum load (prewarning)
- maximum load (ouverload cutout)
Activation of visual and audible warnings is also possible. The wire rope tension sensor is adapted to the wire rope very easily by just a clasp with two screws.
The Wire Rope Tension Sensor is made of stainless steel and will measure the force with a perfectly sealed amplifier with 4...20 mA output. What makes this sensor stand out is its rugged, compact and accurate design
Calibration of the switching amplifier to the switchpoints requested is very easy and performed without any special tools by just applying the appropriate load with the potmeters in BSA following the manual to the relays equipped
with indicating diodes.
Safety, accuracy, and reliability are the remarkable features of this high-performance system available for a very attractive price.