Programmable Overloadprotection GHC-1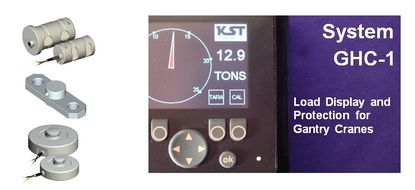 Ideal for:
•      Bridge Cranes, Gantry Cranes
      •      Container Cranes, STS Cranes
      •      Portal Cranes
      •      Harbor Cranes with booms
      •      Straddle Carriers, RTGs
      •      Forklifts
      •      General applications in harbor and     
         construction industries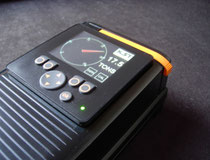 GHC-1 is the most economic State-of-the-Art system used for overload protection on cranes and other lifting equipment. It is also suitable for a number of other applications in rugged conditions, including construction and harbor equipment.
The GHC-1 system consists of sensors (forces, angles) and a control (PLC) with or without multi-colour graphical display which are both programmed in World-Standard IEC 61131-3 language CoDESys ®.
GHC-1 fulfils its safety function by activating or shutting down crane functions via digital outputs. It can be linked directly to the crane controls and other systems by CANBUS or by optional analogue outputs with 4…20 mA output current.
GHC-1 comes as a plug-and-play solution and can be calibrated without any special tools simply on the screen in a very short time.
Features:
·         Analogue and digital Load display
      ·         Tare function
      ·         Alarm function on screen
      ·         Passcode protected Menu for
                  o   Calibration of sensors
                  o   Finetuning of analogue outputs (optional)
                  o   User defined Cutout limits setting
      ·         8 digital outputs for critical crane conditions
                 o   Overload cutout
                 o   Overload prewarning
                 o   Underload slackrope
                 o   Load unbalance
                 o   Single line overload
      ·         4 analogue inputs (4…20 mA) for sensors; Choice of  
            sensors acc. to Cranetype
      ·         6 digital inputs for general purpose or incremental
            counters
      ·         4 PWM outputs (part of the 8 digital outputs)
      ·         Converters available to perform analogue outputs 
            4…20 mA out of the PWM signals
      ·         2 CANBUS interfaces