KST engineering and System Integration
KST has become a significant player on the market of electronic load measuring devices and safety equipment within short time.
Especially because of our skills to offer solutions that are compliant with latest safety regulations required by EN 13849.
We provide reliable hardware together with customer-oriented state-of-the-art software for all kind of lifting and loading appliances.
As System integrators, we use longterm tested components like sensors, processors and control panels made by manufacturers who are specialists in their field.
Together with our software - based on the requirements of our customers - is this a matter for KST.
But we also devote most attention to the installation and calibration of our components and systems.
No special tools are required as set-up and calibration will be performed just on the control panel.
Why settle for standard when KST you can offer what you really wanted:
The perfect solution for your machines!
But don't just take our word for it. Find out for yourself.
We are just a phone call away.....
KST founded by Jörg Kerkow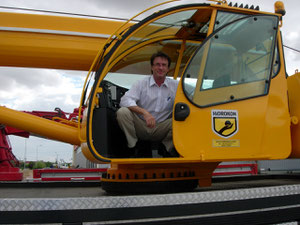 Jörg Kerkow finished his study of electronic engineering at the University of Hannover as graduated engineer (Dipl.Ing) in 1986.
From 1986 to 1998, he worked for Philips GmbH as Development Engineer, Project Manager and Product Manager for TV- and Satellite Tuners.
In 1999, he joined Krüger Systemtechnik GmbH, sister Company of PAT GmbH, as Product Manager, later as Technical Director.
Major Product of this time were the Crane LMI series Mark4*and the Programmable Switching Amplifier PSA3/1*.
Jörg Kerkow was also the leader of an expert group from several companies that defined the methods and results of measuring the loads on cranes. The results of this expertgroup created the guideline VDI 4448.
More information available from KST.
After the merging of Krüger, PAT and Hirschmann, Jörg Kerkow was announced Salesdirector responsible for the international dealer business of Hirschmann MCS.
* Product names by Hirschmann GmbH